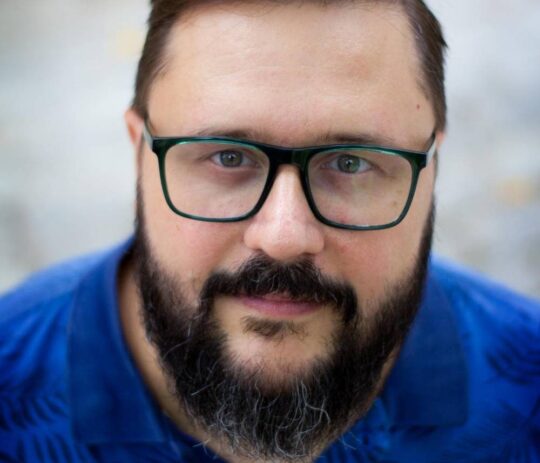 Marc Rosich is a Catalan librettist and director based in Barcelona. He is the artistic director of the "Òpera de Butxaca i Nova Creació", an ensemble dedicated to chamber opera. His plays and adaptations have been awarded in Barcelona in theaters such as the "Teatre Nacional de Catalunya" or in the" Teatre Lliure", and in Madrid in theaters such as "Centro Dramático Nacional".
In recent months he has consistently written and directed the musical theater: Àries de reservat, ¿Qué fue de Andrés Villarrosa?, A tots els que heu vingut, Renard (Barcelona Critics' Awards Best Play for Children 2017 / Butaca Award Best Play for Children 2017) and A mí no me escribió Tennessee Williams. As a librettist, he participated in collaborative projects such as Office of postidentical living (Neuköllner Opera). In the midst of his plays, he can also be found in productions such as LIMBO, La dona vinguda del futur (Butaca Award Best Play for Children 2014), Rive Gauche, Car Wash (Staatstheater Stuttgart / Teatre Romea), N&N, Party Line, Surabaya (Finalist Fundació Romea Award for New Plays) and Copi and Ocaña in Purgatory.
In collaboration with Calixto Bieito, he directed Büchner's Leonce and Lena (Residenz Theater, Munich), Shakespeare's Forests (Barbican, London), Tennessee Williams' Camino Real (Goodman Theatre, Chicago), Calderón's The Great Theater of the World (Theater Freiburg), Voices (Betty Nansen Treatret, Copenhagen), Don Carlos (Mannheim Schillertage), Tirant lo Blanc (HAU Hebbel am Ufer / Frankfurt / Teatre Romea, Barcelona Critics' Award to Best Adaptation 2008), and Houellebecq's Platform (Edinburgh Festival / Teatre Romea). His opera credits include The Song of the Women of the River (Carlus Padrissa, LA FURA DELS BAUS, Lucerne Theater, Switzerland / Köln Theater), Bazaar Cassandra (Neuköllner Oper), Java Suite (Theater Basel, Switzerland), Lord Byron (Staatstheater Darmstadt / Gran Teatre del Liceu), and La Cuzzoni (Staatstheater Darmstadt).
As a director he also staged Granado's one-act zarzuelas Picarol & Gaziel (Palau de la Música), Shakespeare's Merry Wives of Windsor (Parking Shakespeare) Büchner's Woyzeck (Parking Shakespeare), the contemporary opera 4Carmen (Festival de Peralada, Neuköllner Oper), and Purcell's Dido & Aeneas (Palau de la Música).
---
Marc Rosich ©Isaias Fanlo