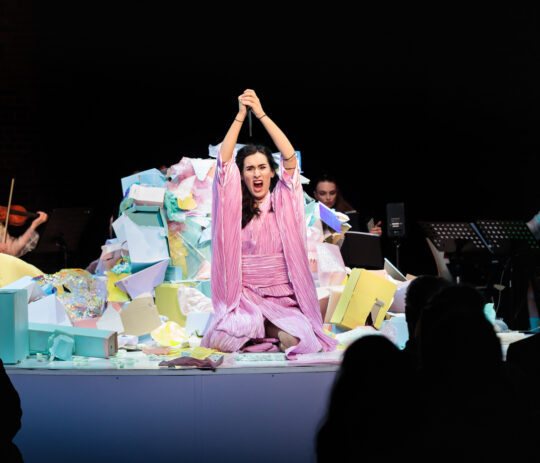 Since 1997, a unique collaboration has united the Neuköllner Oper with GASAG (Berlin's main natural gas vendor): they have founded the BERLINER OPERNPREIS, a bi-annual competition for musical theater composition. It addresses artist collectives and composers who want to conceive works for genre-ambiguous and socially engaged musical theater. Young creatives are challenged to fulfill the competition's requirements – reduced to merely a thematic framework and the innovation of conventional musical theater – to participate in this practice-oriented contest.
This way, the BERLINER OPERNPREIS has fostered and mentored diverse variations of formats and works, which aim for – as member of the jury Detlef Glanert expressed – "more connectivity to living people, innovation and popularity, adventuresomeness and the pursuit of pleasure."
THE LAST COMPETITION:
TAKE IT OR LEAVE IT!
An internationaler Competition for alternative Music Theatre
The BERLINER OPERNPREIS by Neuköllner Oper Berlin and GASAG
Hurray, we are heirs! A truly generous inheritance is just around the corner. The question is: who is actually up for which inheritance, who is seeking something out, who wants to receive something and who would rather prefer not to receive something during the reading of the will? The inheritance is enormous: over 400 years of music theater in Europe! What enriches and helps you as material in order to found and lead your company "NEW MUSIC THEATER"?
The BERLINER OPERNPREIS will provide the opportunity to produce a half-hour piece of music theater under the motto TAKE IT OR LEAVE IT! at the expenses of those presenting the prize with a world premiere production in Berlin.
To apply, you simply need to submit a concept for a new piece of music theater which combines your personal artistic signature with the coming to terms with the legacy you have decided upon which you will produce yourself or arrange to have produced in conjunction with the production conditions listed below.
The competition is open to composers and/or music theater teams based in Germany and the rest of Europe.
Neuköllner Oper stands for undogmatic music theater incorporating all genres, styles and cultures and looks forward to vital, cosmopolitan, skillful works open to all experiences with music as the central protagonist on stage.
Berliner Opernpreis 2016 Game over # Go on
Berliner Opernpreis 2014 Night in Europe
Berliner Opernpreis 2012 New Deal
Berliner Opernpreis 2010, Verbotene Liebe
Berliner Opernpreis 2008, Der Sonderermittler
Berliner Opernpreis 2006, Tod eines Schneiders (Mooshammeroper)
Neuköllner Opernwettbewerb 2004, Putzfrauen (Wischen – No Vision)
Neuköllner Opernwettbewerb 2002, Münchhausen
Neuköllner Opernwettbewerb 2000, Hundeherz
Neuköllner Opernwettbewerb 1997, Der Wurm