Subscribe to our newsletter
New creations, legendary works, big questions, successful teams, young talents and a multitude of female perspectives – welcome to the 2023/24 season!
Berlin: cosmopolitan city of science, museums and the arts! In the heart of the city, around Museum Island, we will once again embark on a journey of discovery with experts from science, philosophy and music to find answers to an essential question: Which thought patterns can offer us support and orientation today? And what role can music play in this?
The WUNDERKAMMER TRILOGY starts at the Neues Museum with a captivating exploration of ancient Egyptian culture. Their fundamental ideas about God, the world and man are the starting point of our research and reflect phenomena of our time in which bonds and responsibilities seem to be eroding – be it towards nature, social interaction or the belief in a transcendent realm of existence. The second stage is dedicated to the role of ethics in the light of current findings in the natural sciences, humanities and social sciences.
And finally, in the third stage, we "sail" on Berlin's primeval river Spree to the "Island of Utopia" in search of new concepts for the future.
Stage 1: Neues Museum, 22/23 March 2024
Stage 2: Humboldt Laboratory, 26/27 June 2024
Stage 3: Boat trip, 21/22 September 2024
Continue reading

"WUNDERKAMMER-TRILOGY In 2024 "IM PRINZIP HOFFNUNG""
Due to illness in the ensemble, the world premiere of ZUSAMMEN FALLEN unfortunately cannot take place as planned on 7 December and all performances in December will have to be cancelled. The new date for the world premiere of the ritual opera is 6 January 2024.
Tickets purchased online for the cancelled performances will be automatically refunded, if you have any questions please contact our box office: tickets@neukoellneroper.de.
Thank you for your understanding!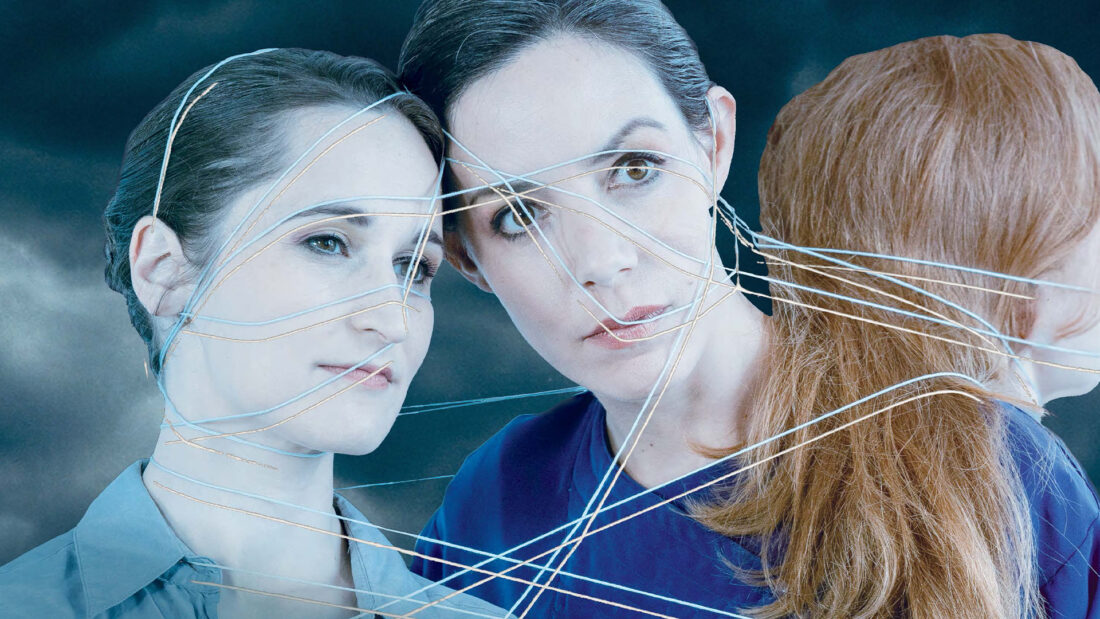 ZUSAMMEN FALLEN
EINE RITUALOPER VON ANDYS SKORDIS (MUSIK UND JELENA VUKSANOVIC (TEXT)
Premiere on 7 January 2024
Continue reading

"PREMIERE ZUSAMMEN FALLEN POSTPONED TO 6.1.2024"
"This question has been on my mind for a long time. As a person, but also as a physician and health or neuroscientist. What is missing in today's medicine, in our society, to generate sustainable health and healing? My preliminary findings (for discussion!), supported by current international data: Awareness of a new, fourth dimension of health is missing: meaningfulness. For example, when I track down unexplained, sometimes chronic symptoms with my patients, I now often find "new" causes – from a lack of meaning to a lack of purpose in life. But here lies an enormous potential for healing: if there is meaning in what we do and a connection between being and life, if we know what we get up for in the morning (and why here in particular), healing can take place. When we commit ourselves to life, surrender to it." – Tobias Esch*
This season, the NKO is searching for clues to these themes: In DER TEUFEL IM LIFT, four hotel guests search for meaning and confidence, woven into the timeless music of J.S. Bach. WUNDERKAMMER XI examines the nature of devotion & commitment, and in EIGENTLICH BIN ICH GLÜCKLICH the Junge NKO presents its theater evening based on research on the topic of happiness. The revival of BIS KEINER WEINT circles around the questions of one's own identity, while in the ritual opera ZUSAMMEN FALLEN three goddesses of fate await you…
Here's to eventful and insightful encounters in your Neukölln Opera!
*The neuroscientist, health researcher, physician and author Tobias Esch is connected to the activities of the Neukölln Opera through the Wunderkammer series. He is Institute Director and Professor for Integrative Health Care and Health Promotion at the University of Witten/Herdecke.
Continue reading

"What makes me get up in the morning?"