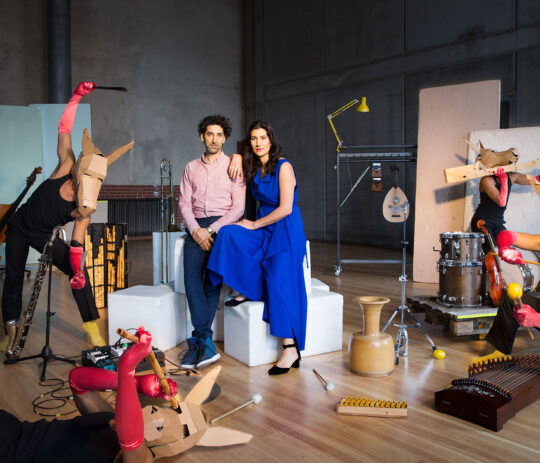 New music, jazz, electronica, hip hop and free improvisation, classical music traditions from around the world – Trickster Orchestra weaves these diverse genres into a new, radically contemporary music with jazz at its heart. Under the direction of Cymin Samawatie and Ketan Bhatti, the orchestra uses traditional European, Asian as well as electronic instruments to create its unique musical language. The collective, which performs in changing lineups, includes some 40 outstanding musicians* and singers from almost all genres, and its music transcends traditional demarcations between genres and cultures that are now prevalent across geographical, "ethnic" and temporal orders. The Trickster Orchestra was founded in 2013 and has performed in Europe and West Asia, including at the Festival for Modern Listening Düsseldorf, Jazzfest Berlin, Silk Road Festival Baku and Modara Fest for Contemporary Music.
Involved in
Award-winning author Moritz Rinke, director Mathias Schönsee, and the transcultural Trickster Orchestra interweave humorous drama with the musical cosmos of Beethoven – challenging Western-White-European musical history in an un-heard-of way.
Premiere on 02. December 2021.
To 06. January 2022.