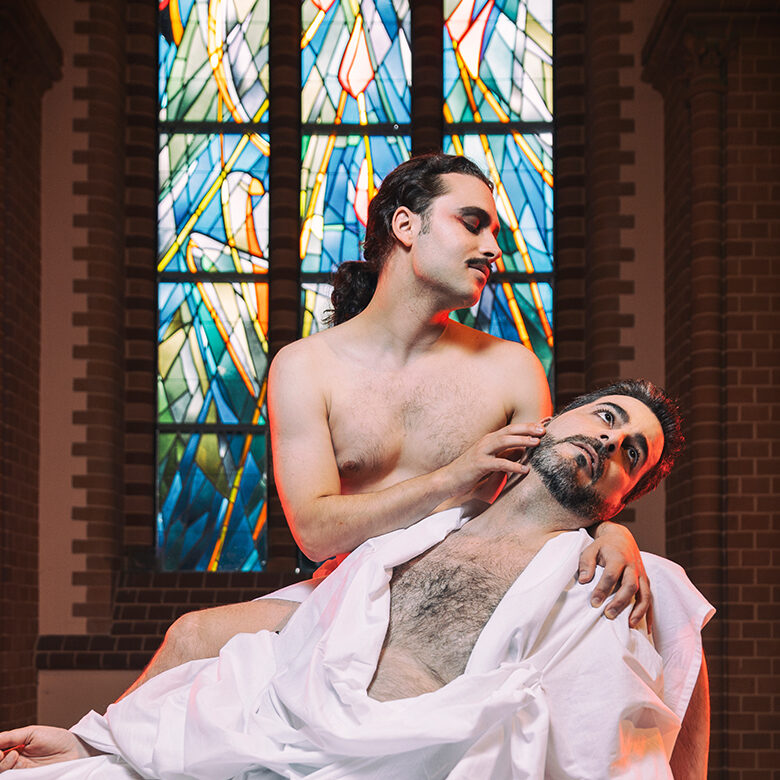 Strange things happen in the lobby of Hotel Heaven. At five in the morning, three guests meet by chance, but is there such a thing as coincidence? While the internationally sought-after brain specialist Prof. Feininger encounters a "light-seer" named Blanche during check-out, the young journalist Raquel is stuck in the elevator. As soon as she is freed, it becomes clear: this elevator has it all. In the truest sense of the word – a dead man, who shortly afterwards falls into the lobby with glistening light and Bachian sounds. What is it about this stranger who transforms the night and sends a perplexed doorman and his guests into surreal dreams, encounters, longings and fears? Is he a fallen angel, is he Lucifer or the devil, as so often sung about in the cantatas?
An erratic game begins, as Blanche and Raquel look to the future and the past, and Prof. Feininger introduces his research that is meant to change lives. Finally, the work of the unknown brings everyone to personal limits, where the great questions of meaning, faith, death, transience and futility lurk – mirrored, played around and commented on by the timeless music and deep spirituality of the music of Johann Sebastian Bach.
The montage of well-known and lesser-known cantatas and motets arranged for this evening includes the Gretchen question about what sustains our lives: "Now tell me, how do you 'bout religion?" – or with science? The Night at the Hotel invites its theater guests not only to reflect, but also to sing along to one or another of the chorales (only those who want to, of course). Welcome to your Hotel Heaven!
At the invitation of the Neuköllner Oper, the internationally renowned ensemble lautten compagney BERLIN will perform a world premiere developed in close collaboration, which brings Bach's cantata works into the scenic space and enables a new, different way of looking at Bach.
WITH
Elias Arranz, Frieda Barck, Elmar Hauser, Christian Pohlers und Stefanie Dietrich and the musicians of lautten compagney BERLIN with Javier Aguilar, Helen Barsby, Ulrike Becker, Sabina Chukorova, Thor Harald Johnsen, Ulrike Ködding, Axel Meier, Ulrike Paetz, Andreas Pfaff, Annette Rheinfurth, Eduard Wesly
ARRANGEMENTS AND MUSICAL DIRECTION Wolfgang Katschner DIRECTION Ansgar Weigner STAGE DESIGN Jürgen Kirner IDEA AND DRAMATURGY Bernhard Glocksin VIDEO Martin Mallon
With subtitles in English and in Spanish via OPERA ACCESS