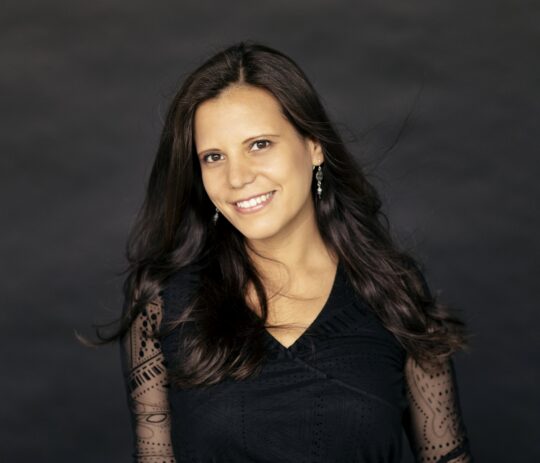 Diana Syrse is a composer and singer from Mexico City. Her music is characterized by an influence of jazz, rock, fusion, traditional music from around the globe, and avant-garde as well as the use of non-Western instruments, theatrical elements, and electronics. Her focus is on musical composition for new musical theatre, opera, staged concerts, and interdisciplinary collective creations. On several occasions, her music is performed by herself in collaboration with other ensembles, choirs, and orchestras. As a singer Diana has studied bel canto, extended vocal techniques, jazz, and improvisation and specializes in exploring different approaches to the composition and interpretation of new musical theater.
Her catalog contains works written for choirs, orchestras, ensembles, electronics, electroacoustic music, dance, opera, and new musical theatre. Her music has been performed in Europe, Canada. Latin America, the USA, Africa, and Asia. She has worked as a composer and singer with the Angeles Philharmonic Orchestra, the Staatsoper Hamburg, VocalEssence, the Babylon Orchestra Berlin, Kinderkinder, and Túumben Paax. She has been invited to international festivals in the United States, Mexico, Germany, Holland, and Latvia. Her compositions have been performed by the Mexico City Philharmonic Orchestra, the Cuban National Orchestra, the Anne Arbor Symphony Orchestra, the Montpelier Chamber Orchestra, Nemian Dance Company, Dance On Ensemble, Oktopus Ensemble, among others. In the area of opera and theatre, she has worked as a composer in residence at the Kammerspiele München, Schauspiel Frankfurt, the Berliner Ensemble, and the Staatsoper Hamburg. She was also the founder and artistic director of The Breakout Ensemble in Munich.
Involved in
Encountering the world differently – with two of the "oldest senses" we have: hearing and smelling. What experiences and images does music, interwoven with the sense of smell, carry us to? What reflections of "the world" and oneself emerge when we – as an offer, not an obligation – close our eyes? The inspiration and […]
Premiere on 17. March 2022.
To 19. March 2022.
Location: Humboldt Forum
Premiere on 21. July 2022.
To 08. August 2022.