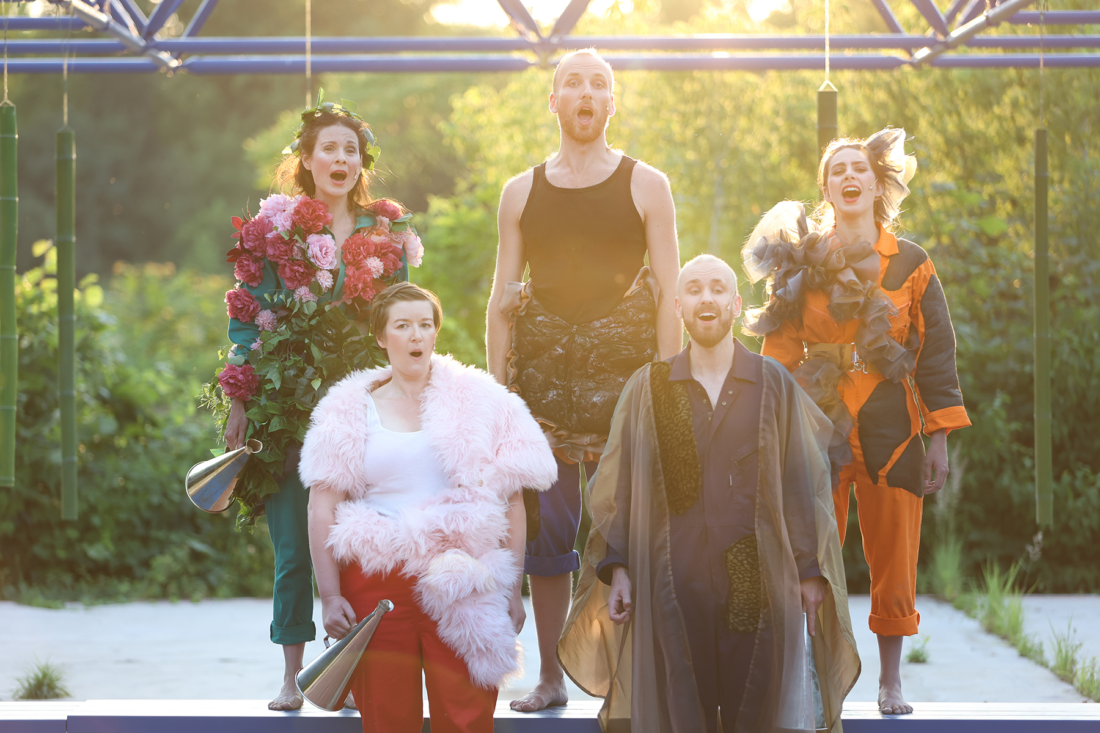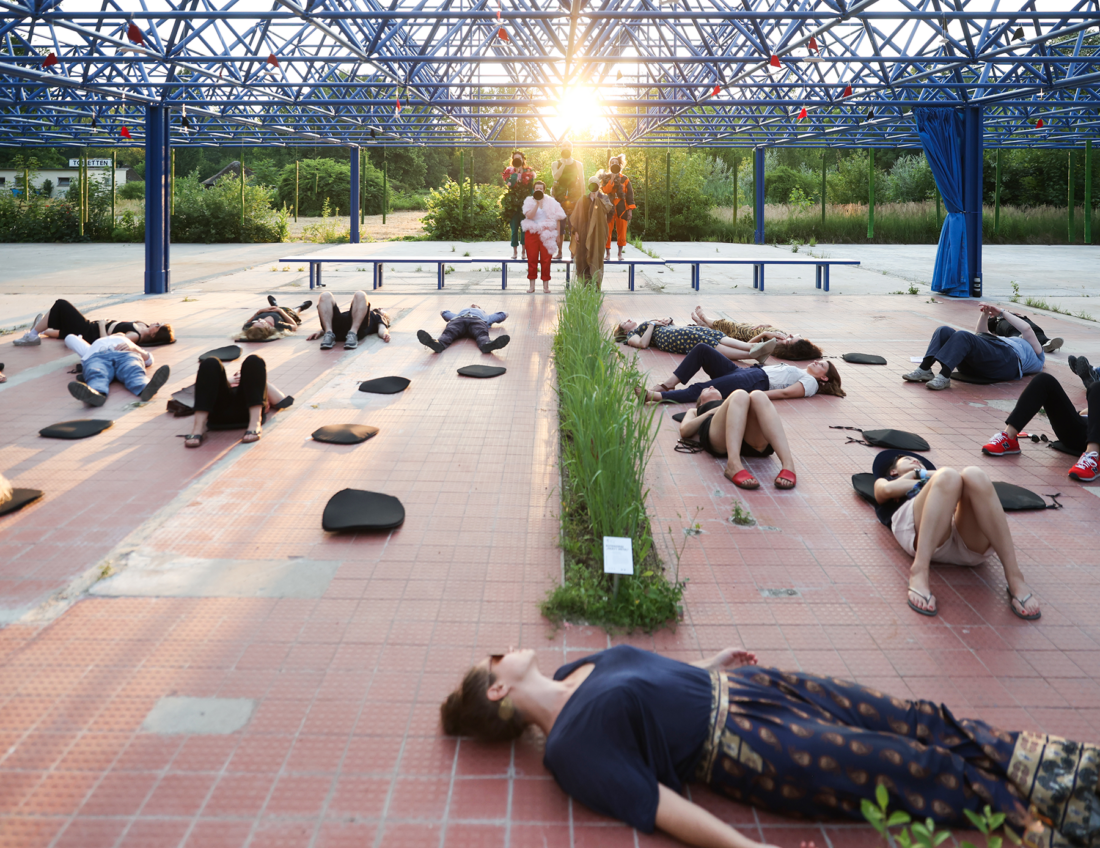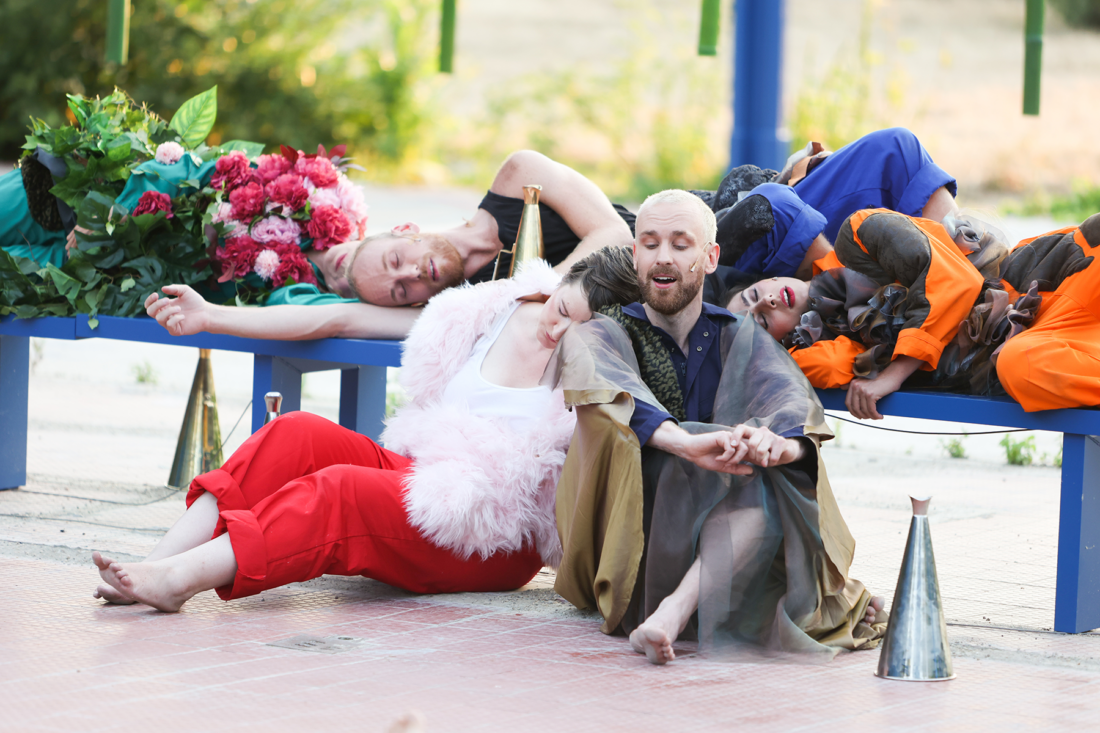 Part three of the trilogy THE PRESENT saves the world – FOUNTAIN OF JOY celebrates the triumph of human imagination: utopia begins now, tears and training were successful and the salvation of the world …
THE PRESENT welcomes you to Spreepark Berlin, THE former (East) Berlin place of fun, between post-reunification megalomania and completely new urban design. THE PRESENT invites you to celebrate a party of the future and – for nature conservation reasons – not to laugh too loud.
Because in this place in the middle of Plänterwald you will see not only the pale starry sky and the airy installations made of loofah sponges that you can take home, but, if you are very lucky, also the kestrels in their eyrie, the nightingales among the trees and the bats over their heads.
And if you are very quiet, then together with THE PRESENT you can hear how a bond between nature and culture could sound.
With music by Lucia Ronchetti, Clément Janequin, Catherine Lamb, Johann Sebastian Bach, Georg Friedrich Haendel, Giorgio Moroder, Kenneth Lorin Darby, John Cage, Bobby McFerrin, Brian Wilson, Terry Gilkyson, Ludwig van Beethoven, Anthony Newley, Lesslie Bricusse
The three ladies and two gentlemen of the solo vocal ensemble THE PRESENT have taken on a lot: In three parts from March to July, they invite you to save the world for a change – in places that are inextricably linked to Berlin's transformation and a new understanding of nature and the city. Working collectively with director and writer Therese Schmidt and set designer Hsuan Huang, they have created three musical evenings that confront the climate crisis with complete hubris and a twinkle in their eyes – whether those eyes are laughing or crying, only you can decide.

LOCATION:

Spreepark
Meeting point: Infopoint
Kiehnwerderallee 1-3
12437 Berlin

HOW TO FIND US:
We recommend arriving by public transport
via S Treptower Park/S Plänterwald/BUS Neue Krugallee/Dammweg. Please allow 20-30 minutes for the walk.

There are no parking spaces for cars available. If necessary, use the public parking spaces in Bulgarische Straße.
Please note that there are no bicycle racks on the Spreepark grounds, so these must be parked outside the park.
WITH
Florian Hille, Will Frost, Maja Lange, Amélie Saadia, Olivia Stahn
CONCEPT
Hanna Herfurtner, Hsuan Huang, Amélie Saadia, Therese Schmidt, Olivia Stahn
ARRANGEMENTS
Amélie Saadia
DIRECTION
Therese Schmidt
SET DESIGN
Hsuan Huang
DRAMATURGY
Änne-Marthe Kühn

A production of Neuköllner Oper in cooperation with

---