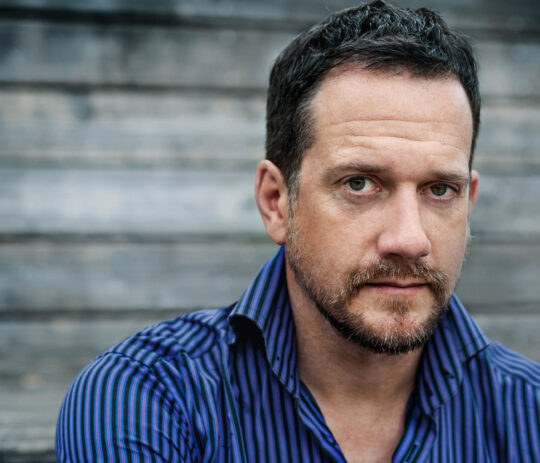 studied acting at the Hanover University of Music and Drama from 1991 to 1995 and, after completing his training, was engaged at Schauspiel Leipzig, from 1998 at the Bremen Theater and from 2000 to 2004 at Schauspiel Hanover. He then made guest appearances at major theaters in Berlin, Hamburg, Frankfurt, Cologne and Hanover. From 2009 to 2012 he was a member of the Staatsschauspiel Dresden, where he also made his directorial debut with Die Insel von Athol Fugard. This was followed by productions at the Deutsches Theater Berlin, Schauspielhaus Bochum and Schauspiel Frankfurt, among others. In 2016 he staged his first opera – IRIS BUTTERFLY – at the Neuköllner Oper, followed by the musical AFFE with songs from Peter Fox's album "Stadtaffe". In 2017 DER SCHUSS followed there, in 2018 DIE WEISE VON LIEBE UND TOD, in 2019 9 TAGE WACH and in 2020 IRON CURTAIN MAN.
Involved in
June 2, 1967. An evening in Berlin. The city in uproar. A couple amidst the turmoil. He's carrying a banner under his arm, she's carrying a child in her belly. He wants to stay just a little while longer. She goes home and waits for her husband all night…World Premiere June 14, 2017
Premiere on 02. June 2017.
To 08. July 2017.
Black to blue, that is the dawn over Berlin in the already legendary lines of text by Peter Fox about the way back home through grubby streets after a night of excessive partying. For F., the hero of the piece, the blue of the day beginning turns back into black. He passes out – and wakes up surrounded by the whiteness of a clinic…World Premiere 23.11.2016
Premiere on 09. June 2018.
To 18. July 2018.
He had a relationship with her for years after the first failed childhood love. Growing up at the gates of Dresden, Eric Stehfest came into contact with the party drug Crystal Meth at the age of 14 in Neustadt…
Premiere on 11. April 2019.
To 19. May 2019.