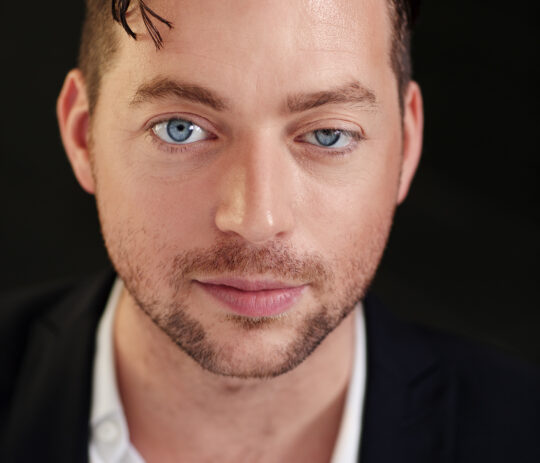 studied conducting, piano, and singing in Lübeck and Karlsruhe. 2003-2006 he worked as a solo répétiteur and Kapellmeister at the Volkstheater Rostock with numerous with numerous rehearsals in musical theater, conducting in concert and opera. Since 2006 he has worked in Berlin, Baden-Baden, Rostock, Hamburg and Kiel as well as at the Festspiele Mecklenburg-Vorpommern and the Festival European Weeks Passau. He has musically productions in recent years include the German première of the German premiere of 13 – A New Musical, Der kleine Horrorladen, Tonight: Lola Horrorladen, Tonight: Lola Blau, The Last Five Years, Die Fledermaus, Hänsel und Gretel, and most recently at the Neuköllner Oper Die Weise von Liebe and Death of Cornet Christoph Rilke (Viktor Ullmann). His career as a solo pianist, chamber musician and accompanist has taken him to numerous international stages. He also plays regularly as pianist for the Rundfunk-Sinfonieorchester Berlin, the Rundfunkchor Berlin and the Berlin Philharmonic Orchestra. Markus Syperek was as Musical Director of the Brothers Grimm Festival Hanau from 2014 to
2018, he was responsible for all musical productions of the festival. In addition, since 2018, he has held a teaching position in classical voice at the UdK Berlin and works as a composer and arranger for various theater and music publishers.
Involved in
An evening of music theater about the loss of home and the sense of belonging; a story about identity and growing up.
Premiere on 16. January 2020.
To 23. February 2020.
New arrangement of the drama of the girl Ayamé who is forced to work as a prostitute to pay off the debts of her dead father. All efforts of her bridegroom to free her from the bordello fail and the young couple is left with only one other way out, a traditional Japanese one.
Premiere on 01. August 2020.
To 16. August 2020.