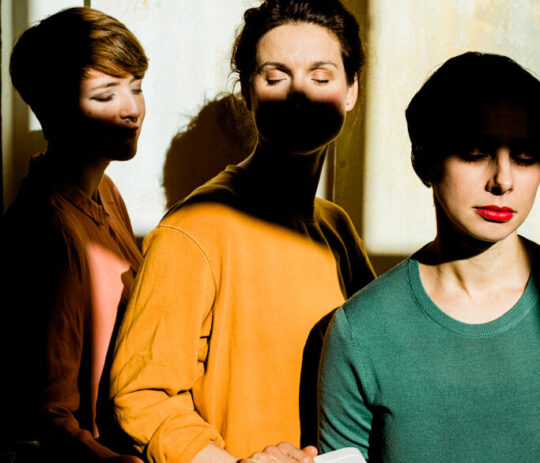 The concept of the solo vocal ensemble THE PRESENT from Berlin is to interweave early and new music in order to make both the one and the other audible in a new way and to bring unexpected connections to sound. Curious about performative forms, the ensemble is made up of soloists, musical theater performers and experts in baroque and contemporary music, united by the joy of shared sound and an interest in experimentation. Particular attention is paid to the conceptual design of the concert programs.
Involved in
Nachdenklich, doch mit viel Humor untersucht THE PRESENT unsere Gegenwart und entwickelt einen musik-theatralen Abend der Andacht z
Premiere on 01. April 2022.
To 03. April 2022.
Eine performative Wanderung : Schärfen Sie Ihre Wahrnehmung für nicht-menschliche Arten und stärken Sie Ihre Ausdauer mit Step-Aerobic. Dabei kommen nicht nur Gummistiefel zum Einsatz, sondern auch Britney Spears, Bach, Tocotronic und Mendelssohn.
Premiere on 29. April 2022.
To 01. May 2022.
Teil drei der Trilogie feiert den Triumph der menschlichen Einbildungskraft im Spreepark Berlin: Die Utopie beginnt jetzt, Tränen und Training waren erfolgreich und die Rettung der Welt …
Premiere on 01. July 2022.
To 03. July 2022.