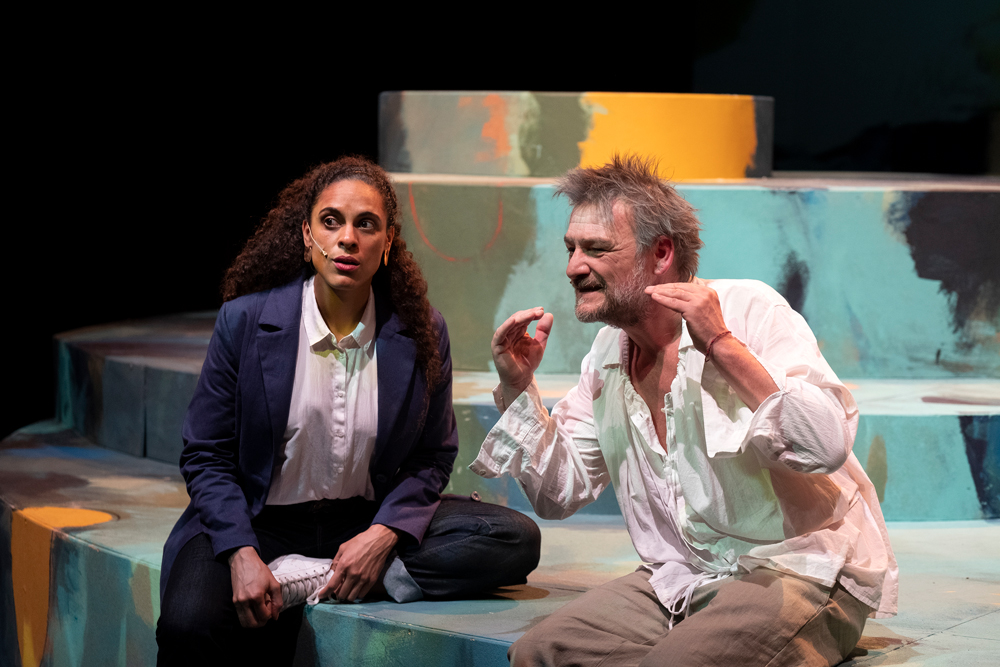 STRONG TEAMS
Stegreif Orchester, Ulrike Schwab, Hakan Savaş Mican, Moritz Rinke, Peter Lund, Trickster Orchestra, Ensemble The Present, Sir Henry, Diana Syrse and many more are shaping the 2021/22 season. Their artistic signatures are as diverse and varied as our diverse society. And since it is constantly changing and must change, all our productions are united by the
DESIRE FOR CHANGE.
If you want to act, you need dreams. That's why we write plays and music. New ones every year, and different ones every year. Our dream remains, it tells of a fair life also for others who have fewer opportunities than we do. The future begins now and through us, for a world without climate catastrophes, poverty and injustice. For this, we need lots of inspiration, music, stories and of course, and not least, humor.
So our topic is transformation – in ourselves, in society, economy, culture (institutions). For this we have
ELEVEN PLAYS AND SERIES
invented. Some are explicitly about climate change, like the performance series with THE PRESENT and NEUE LIEDER VON DER ERDE with the Stegreif Orchestra, activists and initiatives from Berlin and the surrounding area.
Other productions circle aspects of change on further levels.
We started with an experience under the stars: GIOVANNI.EINE PASSION asked about the possibilities and limits of self-awareness and self-expression. BERLIN KARL-MARX-PLATZ sang in the setting of a band performance with hit songs the "love song" of a young couple in Neukölln at the beginning of the 90s, when suddenly there was only one system of values and society. THE MAN WHO CALLED HIMSELF BEETHOVEN comes back after more than two centuries, hears himself again in a completely different musical language and asks questions: about our cultural life and about how far we have come with his credo of equality, freedom and justice. EINE STIMME FÜR DEUTSCHLAND plays through oblique positions and motifs of the last election campaign once again in all musical registers, lusty, cheeky and absolutely non-pc. LILI recalls the fascinating work and life of Lili Boulanger – why must such talents die at 24? And why are female composers played so little to this day? With SCHÖNER WOHNEN, Amy Stebbins and Sir Henry perform a contemporary take on a Tiny Apartment.
25 YEARS OF EDUCATION ON OUR STAGE
In 2022, we celebrate 25 years of cooperation with the UdK's musical/show department. In PARADISE LOST, the successful team Zaufke & Lund write a revue about the beauties, challenges and dangers of the art form musical. MEXICO AURA connects Berlin with Mexico and a globalized, post(?)colonial world in the Humboldt Forum and with an international MusikDanceTheatre. A play around art objects, myths and everyday reality between prehispanic sounds and modern sounds of the young composer Diana Syrse.
AND ON IN THE CITY
Three program series spanning and deepening the season will play in selected venues and new stages in the city: The finalist production of comPOSITION, our BERLINER OPERNPREIS, invites you to the Kulturstall Britz, including a supporting program. The new cooperation with the vocal ensemble THE PRESENT creates performative programs on climate change at different locations. Our WUNDERKAMMER series – where music and current sciences are combined to create a different view of the world – invites curious audiences to special "resonance spaces", including the Prinzessinnengarten Neukölln, the Alte Museum in Mitte and the Oriental Garden in the Gärten der Welt Marzahn.
---
Photo: Maya Alban-Zapata and Christian Kerepeszki in Der Mann der sich Beethoven nannte | © Matthias Heyde